(...only slightly marred by Pluralist telling me that it wasn't as historic as I had believed. Oh well, there you go, then.)
I was in the dark and freezing car park at church house at 7.45 for an 8.00am departure.
Just me.
I ring Pastor Mark who lives in Middlesborough. "Where are you?"
"On my way, only the minbus has a capped speed of 62mph. I've never driven this slow in my life. I'll be there at about 8.40. You're very early for an 8.30 meet."
Bugger.
In addition my key won't work in the back door lock and the secret key isn't the same, so I can't even get in to make myself a cuppa and wait.
Double Bugger.
I drive home.
"Has it been cancelled?" Sleepily from the bedroom.
I return and am gratified to discover I am not the first as Pastor Libby is there with Annette and a very excited dog. Annette won't be going though as she has a kidney infection and has just dropped Libby off. Libby and I leave Annette to walk the dog and go and make a hot drink. Libby reels of a list of those who won't now be going with us for various reasons. A minibus seems to be a bit ambitious in the light of this one feels. The phone rings.
"It's me, Annette. Let me in: my backdoor key won't work."
Jennifer, Bishop Walter's wife arrives ten minutes later as Pastor Mark draws up with his wife and their three very smart offspring ranging from 17-21. Livia, with walking stick, and Dr. John who lives in the church house make up the number.
Bishop Walter is already in London having only just returned from some important conference in Mexico.
The journey down is uneventful - I must have slept, it seemed to pass quickly - until we reach the outskirts of London. We are seven miles from the church which is right by St. Paul's Cathedral and we have an hour to go. Kilburn High St. is a nose to tail nightmare and, we discover later, an underground line is out of commission. Jennifer keeps taking increasingly worried calls from Joan who had gone down yesterday by train. Mark's wife Khadi and daughter Lydia start to change in the mimibus. I am most impressed as Khadi is in the front seat and in full view of anyone. She smiles sweetly at anyone who glances her way. Mark remains serene.
It is at this point that Jennifer tells us that she has been missed off the official guest list. All the other bigwigs are mentioned with their wives but not, it seems, the wife of the presiding Bishop. She is incognito. With her usual aplomb she isn't the slightest bit bothered.
The traffic is at a standstill and Mark's sat-nav says 1.5 miles to the destination and we have 13 minutes left. He has been proud of this gadget and it felt churlish to point out that the M1 joins Leeds to London so it actually fairly hard to go wrong.
Livia points out that the minibus has a yellow light on the roof and we are at the point of seriously considering putting it on flash when the traffic opens up and we are on our way again. Notwithstanding roadworks and diversions we arrive at Gresham St. with three minutes to spare. We all disembark in various stages of readiness and I take my robes, Mark's robes and Bishop Walter's staff and Libby and I head for the Wax Chandlers' Hall. The others head for St. Anne's and Mark goes in search of a parking space.
As I enter the hall I am greeted by a member of staff.
"This way for robing, Your Grace."
Hhahahaha!
The room is packed. I have never seen so many clergy in one place. The Provisional Wing of the C.of E. (The Mothers Union) could have taken the European Lutheran Church out in one deft manouvre had it known.
Everyone else is robed already and Libby and I feel disapproving stares, but confident that Mark, who is a fair few collar sizes bigger than me will make a bigger and a later entrance (hopefully he will make an entrance at some stage), I ignore them and robe quickly, conscious that I have missed all the instructions of who goes where.
Mark does not disappoint, walking straight past Libby and I and his robes and into a phalanx of continental bishops.
Ruffled feathers smoothed and Mark robed with the assistance of Libby - above and beyond the call of duty I felt (the woman is a saint) - we are off. I insinuate myself into the fourth row of pairs behind the crucifer, confident that if I follow the one in front I can't go wrong.
Gresham St. is a quiet street. We do not stop traffic. There isn't any. No-one notices our procession to St Anne's and I feel a pang of regret.
The church is full and I duly follow the one in front to a reserved seat and find that I am behind the pulpit and therefore my view of the key events will be non existant.
S***
Nevertheless it is a wonderful service with fantastic music and it follows seemlessly. The sermon is given by the Bishop of Lund the Rt. Rev'd Antje Jackelin and she makes a storming job of it, concentrating on Job's cry "I know that my redeemer lives." The consecration, when it comes, (not the beatification as one of Mark's sons endearingly called it) is conducted by Bishop Walter, the Rt. Rev'd Alex Gehazi Malasuza of Tanzania and the Rt. Rev'd Elmars Rozitis of Latvia. This bit I miss because of the pulpit. All the way from Leeds and I don't get to see her burst into spontaneous combustion through the Holy Spirit! Still many have come further and deserve a better view so I contemplate the benefits of humility. The exercise is something of a failure.
There is a Eucharist and the Peace is that wonderful chaos that tipifies such gatherings.
I exchange the Peace with the Rt. Rev'd Rupert Hoare of Liverpool and some luminary from the Lutheran World Federation from Geneva. The Eritrean and Swahili congregations both provide wonderful choirs and the intercessions are led by Latvian and Chinese Pastors, a Methodist minister and a Swahili lay member.
Jana passes through it all with a calm regality.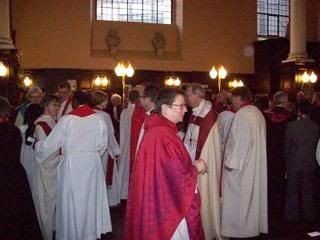 We process out and back to the Wax Chandler's Hall where we disrobe and head upstairs for a reception. It is here that I find myself chatting to a Finnish Bishop, various Latvians, a wonderful Dutch lady whose name I never had a hope of pronouncing and the Rev'd Dr. Ishmael Noko of Zimabawe who is the General Secretary of the Lutheran World Federation. Sadly there are no Estonians.
There is a lot of bubbly.
There are also a great many speeches and toasts. Each one seems to require a whole glass of champagne and at one point I seem to have my own personal waiter. It's a hard life. I have my photo taken with Bishop Jana. (Doesn't that sound good?) It is at the top of the page and I am grinning like a loon and saying "This is my Bishop".
Emeritus Bishop Walter seeks me out to introduce me to a charming German Pastor whose name badge I only partly catch. He is called Norbert.
"This is him." Says Walter to Norbert. I have no idea what is going on but enter into the spirit of the conversation with good humour. It seems Pastor (Bishop?) Norbert and his committee is responsible for paying my college fees.
I had not known this. It would have been nice to have been freed from that worry. Bishop Walter is on the left and Norbert the right. Thank you Sir. I am deeply indebted to your kindness and generosity and that of your committee.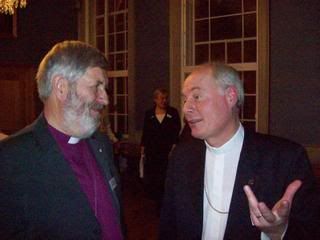 Suddenly we are all departing and I am standing waiting for the rest, holding Bishop Walter's staff.
"Suits you." says Marlies, a Lay Minister from Nottingham.
"Well it's the closest I'll get." I quip.
"Oh I don't know" she smiles.
Maris, a dashing young Latvian Pastor tries it out for size. He suits it better.
We arrange to drop Marlies off at Kings Cross station, ten minute's drive from St. Anne's, for her train to Nottingham. Mark sets the sat-nav and we immediately cross the Thames. For those unfamiliar to Britsh geography Leeds is north of London. I (foolishly) supress my misgivings. We have a lovely tour of Southwark and other highlights of South London before Mark resets the sat-nav and we cross the river again. Any hope that no-one elese noticed is blown at this point. It takes us about an hour to find Kings Cross. As Jennifer wryly commented, we could have taken Marlies back to Nottingham and still made better time.
Bishop Walter comes into his own as a back seat driver at this point.
"You should have turned left there Mark."
I wonder if it is an offence against church canons to tell a Bishop, even a Bishop Emeritus, to zip it. We drop Marlies off at Kings Cross.
"Thanks for travelling with Mark's mystery tours."
We stop in Kilburn High St. for Mark, Dr. John, Ben and Josh to buy a Kebab.
"Salmonella for four anyone?" They looked and smelled totally toxic. Disgusting. Jennifer and Livia are vegetarian and the bus smelt all the way back.
It is a long journey not helped by the long detour aroung Derby caused by the moterway being shut between junctions 25 and 26. I overhear Walter telling Jennifer about a forthcoming trip to South Africa. Should I engage my Bishop in a conversation about Environmental Ethics? Perhaps not at 12.30 am when he is, in his own terms, jat-legged.
I worship at the altar of St. Ipod, getting through all of Purcell's Dido and Aeneas, Elgar's Enigma Variations, Handel's Utrecht Te Deum and Shostakovich's Jazz Suite.
I fall into bed at 1 am. A long day but so, so worth it.
Every Blessing on you Bishop Jana. You are going to be a great blessing to many.