(With Anna, Rachel and Claire)
I meant to put this on before we went on holiday but I got sidetracked.
Nalayini and Fraser are friends of longstanding. (Nalayini sings with me in the Leeds Philharmonic chorus). Their wedding in Harrogate was a wonderful affair and a good time was had by all.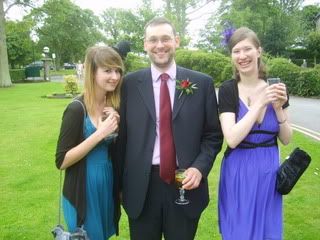 (With big bro Philip)
(The girls kidnap the Bride and Groom.)
(Bonny Bridesmaids and Groomsmen in kilts)
(Nalayini)
(Straight out of the church)
(Anna and Rachel)
(With Claire. How many of those have you had?)