Hi! It's Claire yet again! In this invasion of my Dad's blog I'm gonna be talking about my time at Soul Survivor, which is a 5 day camping experience attended by around 10 thousand teenagers and youth leaders (so it could be a long blog!). There are 3 separate weeks held a year in various locations (so that as many teenagers and churches can attend as possible). I went on Week B, which was held at Bath and West Somerset Showground. The main services were held in the 'Big Top', a MASSIVE circus like tent. It was HUGE! There is a basic schedule that stays the same throughout the 5 days:
9:30 Various seminars
10:30 The morning service (I'm not sure when it officially ends 'cos it always runs over)
2:30 Various seminars
4:00 Various seminars
5:45 Evening service
10:45 All the cafe's and discos open
And 12:30 is around the time you gotta get heading back to your camps
I went to 6 seminars in the 4 days that they were being run. The first was run by Tre Shepard called 'Engaging with Culture'. His seminar was about how we can influence our culture (or society might have been a better word) rather than reacting to it. If you ever get the chance to hear Tre Shepard speak, please do! He was the funniest speaker and really got his point across. He spoke about being different and learnign to trust God and offer every decision we make to him.
On the same day I went to a seminar by Rachel Gardner called Soul Sista: Being Good. It was all about relationships and sex, which is a definately a big thing for teenage girls. It was a very girly seminar! But at the end, we were invited to the front for forgivness for mistakes that we had made (relating to sex and relationships) which was very emotional.
To cut down on the amount I'm writing (and trying to remember, which is hard 'cos Soul Survivor was over a month ago!) I'll tell you about the last seminar I went to. It was by Patrick Regan and was called 'How to See in the Dark'. It was about learning to love people that society tells us are failures and scroungers. He works for an organisation called XLP who work in some of Londons roughest areas with teenagers, focusing expecially on gang members and leaders. Because some of these gangs are very terratorial they can't have a fixed meeting place for these teenagers, so they use a double decker bus which they park in the terratories. They create a safe place for people to just hang out without the fear of being shot at or knifed. They aim to change the attitudes and behaviours of teenagers and raise their self esteem and self worth. They are a Christian based organisation, but rarely ever mention God to the teenagers, as the mention of religion can be a turn off for most teenagers (I should know, I got to a church school and hardly anyone is religious).
I learnt alot from that seminar and it helped me see 'society's failures' differently. I'll go on to mention All Hallows Community Cafe and their work later.
The evening services were very emotional too. Every evening the leaders, Mike Pilavachi and Andy Croft invited the Holy Spirit to touch everyones lives. This nightly resulted in people laughing, crying, screaming, shaking and collapsing. The screams especially were very unnerving. The sermons were given by a different people every night, ranging from talks on talking to God about life changing choices, to learning to love everyone. The latter was a very emotional sermon, given by a man called Antony Watts from New Zealand. He told us about him friend who came to live with him and his family, a drug addict who turned his life around. In his next sermon he told us about how his friend died. He disappeared one night when Antz was away and went looking for a fix. He got lost and spent his last hours feeling deserted by Antz, feeling lost and ashamed in himself. It took Antz a long time to forgive himself for his friends death.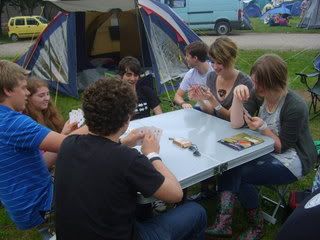 I loved my time at Soul Survivor, talking to God and learning about him and what he can do in my life. The second best thing about Soul Survivor was spending time in my camp. I went with around 23 teenagers from my church and we called ourselves Camp George :D. I loved the laid back feeling we had. The guys played Ultimate Frisbee and tried (and failed) to teach me and some of the other girls! We played cards, dares, pass the parcel and sang loudly into the night. The leaders were amazing too! We managed to create some Soul Survivor Legends, stories that cause hysterics everytime they're mentioned (they included the insect spray drugs and the shower incident!).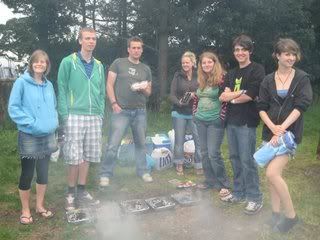 The last service was amazing! These two videos should show you why (sorry, they're abit bad quality):
None were filmed by me, so any random teenagers features aren't people I know!
If you're reading this, Well Done! You made it through all my ramblings! Thank you for reading :) x